Hi Sam,
We are creating a farm finance report for farmers based on data recorded on a farm management software. I am trying to create a forecast scenario for Price and Yield as seen in the image.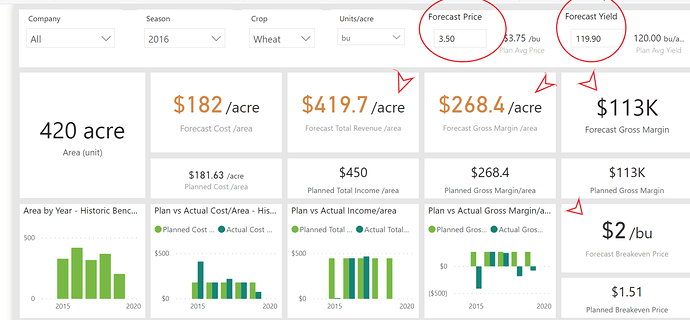 The numbers entered in these forecast scenarios are then used to predict other financial mesures as shown by the arrows
The issue is that every crop has different harvest weight units which would require a different series of numbers for yield forecast .For eg bushels (bu) would be generateseries(0,300,0.1), whereas bales would be generateseries(0,30,1). I tried to create a large series of (0,500,0.1) to accomodate for the different units but because of the amount of rows that this tabele creates power bi doesn't give accurate results when we drill into decimals. If I type in 120.00 it automatically redirects it to 119.9 Now while this may not matter in a different situation the decimals do matter in yield and so they need to be accurate.
My question here is, is there a way to dynamically change the series of the what if parameter by selecting a yield unit from say a slicer . Or is there another way to handle this query?
Any help is much appreciated