Hello,
I am trying to display an invoice range for the previous week. For example, I have something already that shows the previous month. I use the following formula to produce this: Invoice Range = EDATE(TODAY(),-1).
I am trying to achieve the same thing but for a week.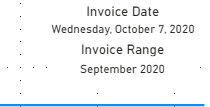 I would want the above to read September 28th through October 3rd.
Any thoughts?