Hi All,
I am hoping this is a simple and common issue that I lack the skill for and the language to search for a solution…
Business Problem:
This takes place in the nonprofit/human service sector. An employee's shift must include 3 events in 3 separate systems:
The clocking in and out of a state-sponsored system (sometimes initiated by the employee, sometimes a client/family).
Clocking in and out of the companies payroll system.
Documenting the services provided during the time periods above.
Each process is its own Fact table (The payroll system Fact table is not in the model yet). I need to be able to compare the start times of the systems and flag events that occur greater than 8 minutes apart. I thought this would be a simple datediff. I want to use this to replace this current table where the manager has to eyeball the difference. What am I missing?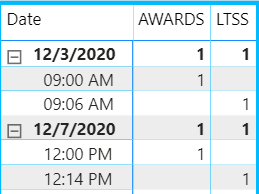 Below is a screenshot of the data model.