Hello,
I am needing some help building a measure (I think…) around when a project status changed.
Please see the attached snip for some dummy data.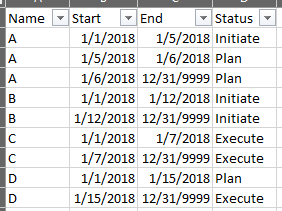 Basically, I have a series of historical project records. I need to be able to report when a project status changed from one status to the next. For example, Project A went from "Initiate" to "Plan" on Jan 5. Some other attribute changed on January 6, causing the introduction of a new record. But the shift from "Initiate" to "Plan" happened on Jan 5.
For project D, the shift from "plan" to "execute" happened on January 15.
So, how can I build a query or measure that returns the date these shifts happen, without it getting confused by any subsequent records that repeat the same status?
Thanks for any help!