Workout 009– KPIs & Targets (line charts)
Difficulty rating: 4.0 out of 5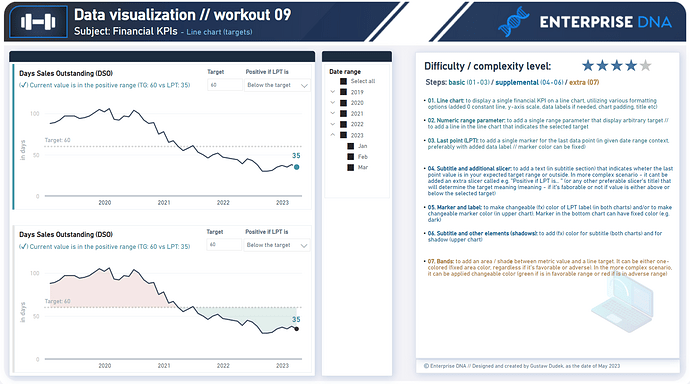 Intro note
This workout combines various visualization techniques. The most important part of the workout is practice - entries does not have to include every element or functionality to be still considered as great . Please pay attention to the list of functionalities (provided in the screenshoot and in published-to-web report), which includes 'basic' elements (1st-3rd point), supplemental (4th-6th point) and extra (7th point). I would kindly recommend to review them before executing green/blue/orange points to provide proper plan and flow of your work.
A good starting point is to implement first three basic points, by selecting a single chart (top line chart or bottom chart) and displaying a single metric (it can be KPI: DSO as an example). Realizing further points (blue/orange) will provide additional technical practice. You might also replicate both charts (top and bottom) if you'd like to.
Top chart generally requires a few less steps (but dynamic color for marker might be a bit trickier though), whereas bottom chart is generally more complex (bands / areas) while having a fixed marker color (for simplicity).
Following workout bases on exact same data source as provided in workout 008 - if you already participated in 008 workout - please feel free to reuse your already transformed datasource / model / measures etc. Not all columns provided in the dataset have to be used in that particular workout.
**Feel free to use your entries as a part of your project portfolio, if it's instrumental in realizing your goals.
Additional notes
Regarding the column naming convention:
Column 'Payable turnover' - DPO (in days)
Column 'Receivable turnover' - DSO (in days)
Column 'Inventory turnover' - DIO (in days)
Within the report section:
"TG" - Target
"LPT" - Last data point (in current date range context)
In many cases lower DSO might be considered as favorable scenario, but in this particular workout it's an exemplary KPI, thus we might incorporate additional slicer to determine wheter we consider values below the target as favorable or adverse (negative) scenario. It brings additional interactivity that can be reused in other case-scenarios
---
Goals
In this workout, using the supplied dataset and reviewing the provided interactive report (link below) we are going to replicate either a single choosen line chart or both line charts, depending on your goals. Additional custom tooltips are not a part of this workout (they can be simplified comapred to what we can see in the published to web report). Also, please feel free to add any extra visual if you would like to (provided that core visualizations are included in the first place).
009 - Workout - Financial KPIs - line chart - targets.xlsx (15.7 KB)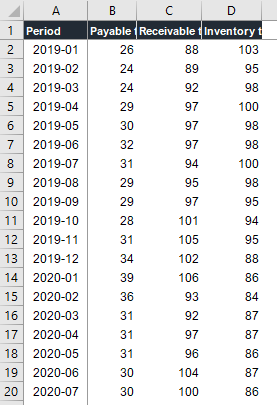 Core actions (practice) :
Creating line charts and applying various formatting options

Leveraging various chart elements to apply (fx) formats (shadows / subtitles)

Applying conditional formatting for specific data points

Incorporating numeric parameters (targets)

Using error bar functionalities
Submission
Please load the supplied data (xls file) into a Power BI file, replicate visualizations (considerating list of points in the introductory report screenshot and the general design and functionality provided through interactive published-to-web report), and reply to this post including the screenshot (or a gif) of your solution along with the pbix file (please, include name or EDNA forum nick in the pbix name).
Period
This workout is released on Tuesday May 23, 2023, and the author's solution will be posted on /Tuesday - Wednesday 30-31 May, 2023.
Additional materials
Link to the interactive dashboard:
Have a great fun!
Best regards!