Workout 003 – Profitability – Line & clustered column chart
Difficulty rating: 3 out of 5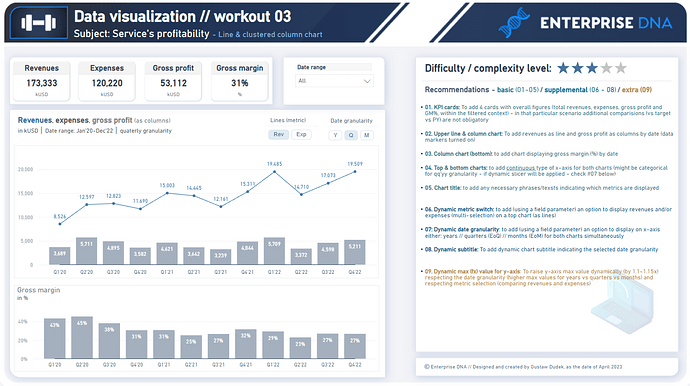 Intro note
This workout combines various visualization techniques and native functionalities (i.e. field parameters etc). The most important part of the workout is practice - **entries does not have to include every element or functionality to be still considered as great **. Please pay attention to the list of functionalities (provided in the screenshoot), which includes 'basic' elements (1st-5th points), and supplemental (6th - 8th points) as well as one extra (9th point) - that can be more time-engaging.
A good starting point is to implement two separate charts (top and bottom, where the top one displays gross profit and revenues and bottom one displays gross margin as the percentage). From there - it can be beneficial to add dynamic granularity, dynamic subtitle and dynamic metric selection (revenues and/or expenses)
Following workout requires to use only 4 columns from provided dataset (date, revenues, expenses and gross profit). There are a few additional columns that are not implemental in the solution.
Nevertheless, please feel free to use any columns and any data which is valuable from your perspective. Feel free to use your entries as a part of your project portfolio.
Goals
In this workout, using the supplied dataset we are going to replicate the following set of vizualizations (left section in a report screenshot), including the kpi cards, line & clustered column chart, column chart and additional slicers (some of them are built using custom visual "chiclet slicer"). Also, please feel free to add any extra visual if you would like to (provided that core visualizations are included in the first place).
003 - Workout - Services Profitability.xlsx (924.6 KB)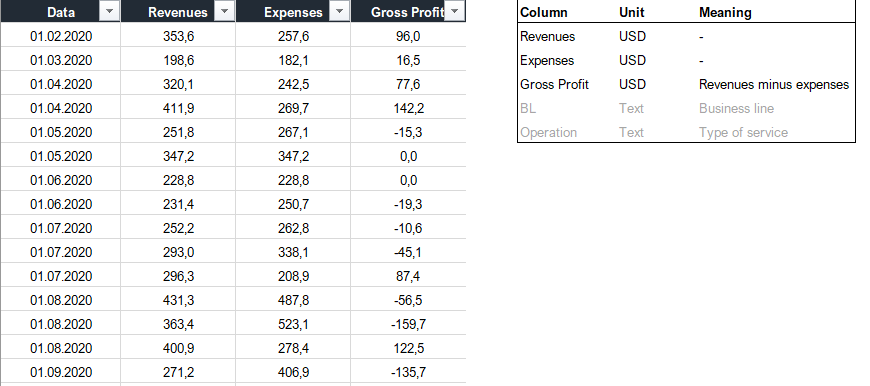 Core actions (practice) :
Making basic calculation (gross margin)

Getting familiar with column chart in general

Handling necessity to display multiple metrics at once (separating visuals)

Using dynamic date granularities

Handling data label formatting options (density etc.)

Creating informative texts (titles / subtitles)
Submission
Please load the supplied data (xls file) into a new Power BI file, replicate visualizations (considerating list of points in the introductory report screenshot), and reply to this post including the screenshot (or a gif) of your solution along with the pbix file (please, include name or EDNA forum nick in the pbix name).
Period
This workout is released on Tuesday April 11, 2023, and the author's solution will be posted on Monday/Tuesday April 17-18, 2023.
Additional notes
Link to the interactive dashboard:
Have a gret fun!
Best regards!