Workout 001 – Hotel Rating – bar chart and table
Difficulty rating: 2,5 out of 5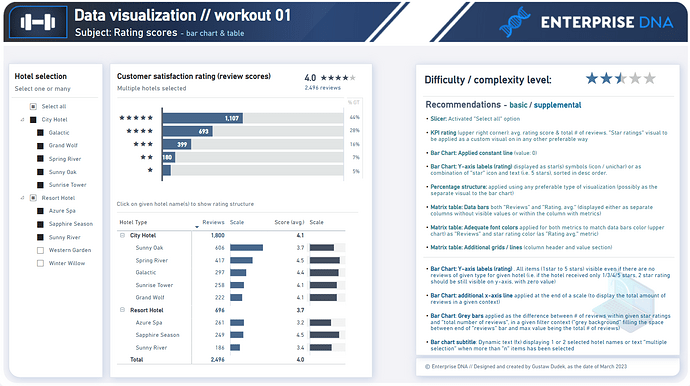 Goals
In this workout, using the supplied dataset we are going to replicate the following set of vizualizations (left section in a report screenshot), including a slicer, bar chart section and table section. Holistic solution requires to include each section listed above, but it's also eligible to provide a solution that will only contain either the bar chart section or the table section. Also, please feel free to add any extra visual if needed (provided that core visualizations are included in the first place).
001 - Workout - Hotel rating (bar chart & table).xlsx (71.8 KB)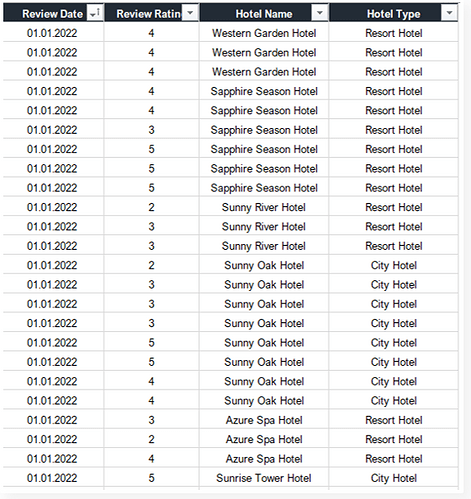 Practiced skills:
Creating interactive set of vizualizations (verifying if data is presented correctly after using interactions / slicers)

Presenting data in the top-bottom structure (overall metrics / details)

Using supplemental visual elements (unicode symbols / icons)

Writing basic dax formulas to achieve desired visual effects (grey bars in a bar chart, text box with names of selected items)

Enhancing data story-telling by using the combination of chart(s) and table(s)
Submission
Please load the supplied data (xls file) into a new Power BI file, replicate visualizations, and reply to this post including the screenshot (or a gif) of your solution along with the pbix file.
Period
This workout is released on Monday March 27, 2023, and the author's solution will be posted on Monday April 3, 2023.
Additional notes
Link to the interactive dashboard: