Hello
I am amending the post of yesterday evening, to include a data set based on fictitious numbers.
I have a cumulative totals problem that I have been trying to resolve for the entire day, without success.
I want to show in a table (twelve months - months coming from the Date table), the
actuals for the current year
actuals for the previous year
actuals for two years ago
actuals for three years ago
And
cumulative actuals for the current year
cumulative actuals in the prior year
cumulative actuals for two years ago
cumulative actuals for three years ago
The cumulative totals must show the total from the start of the year (July) to the current row context.
I have written the cumulative formulas using ALLSELECTED( Dates[Date] )
The PowerBI model: Example.pbix (86.1 KB)
The PowerBI model is constructed from this Excel file: Example.xlsx (368.7 KB)
You can see that the only formula that works is the cumulative total for the current year.
Any cumulative total for the previous years does not work.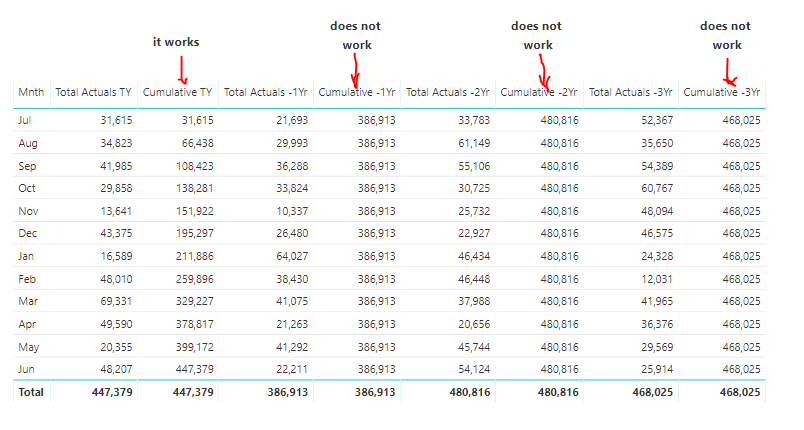 Why do the previous years not work? It does not make any sense.
I marked the Dates table as a "date" table.


I would be very grateful for your help.
PS: @BrianJ
There is no mismatch in granularities; I linked the Fact table to the Date table; I am showing 12 months.
Had there been a mismatch, no cumulative total would have worked. As such, the current year does work; the previous years do not.