Hello All,
I trust that you are keeping well!
Firstly, apologies for the delay in wrapping this challenge up it's just been go go on all fronts at work and at home.
I hope you all enjoyed the summit last week, amazing work from all those involved. So much to take in and the breath of topics covered was just amazing so much to learn from.
Challenge 18 also didn't fail to deliver and there were some epic entries on what was a tough dataset and topic.
The idea sharing, collaboration, encouragement, feedback and willingness to help each other is brilliant to see and truly resonates with what we at Enterprise believe is the best way to learn and develop.
The standard of work from everyone was amazing.
The challenge didn't yield as many entries as usual which I think was down to the dataset and maybe complexity of the actual data, something we will take on board going into the future challenges.
We always try to ensure that the challenges are real life scenarios that you are likely to face in the working world and as such sometimes due to sensitivity and confidentiality data can become somewhat skewed when anonymising as mentioned above this is something we are looking to improve.
If any of you have any suggestions or feedback we are always keen to hear so please do let us know.
The winner
A massive congratulations to @Paul.Gerber an enterprise grade report produced that was aesthetically pleasing and covered all the basis. It was evident @Paul.Gerber has spent a lot of time in researching around OEE and producing a technically sound report. A big congratulations and a massive achievement to take a second challenge win! Well done @Paul.Gerber a great entry!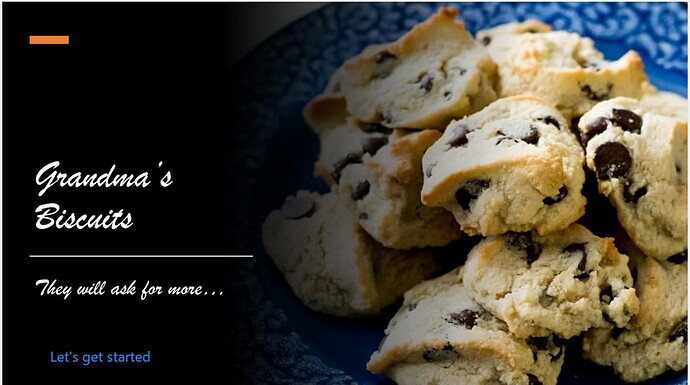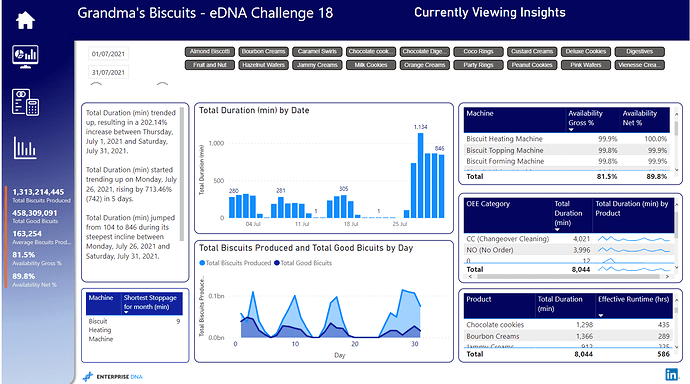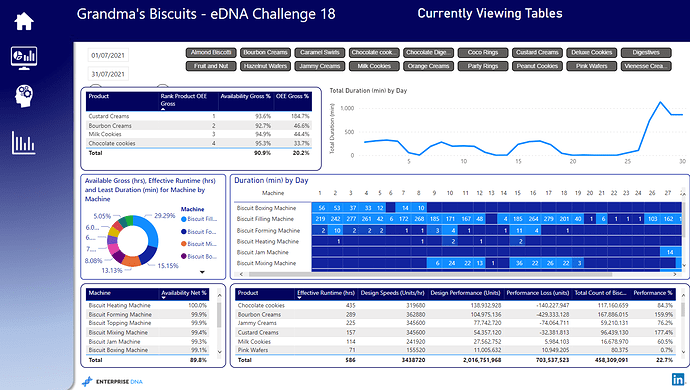 There were also some highly commended efforts from @hastewar22 and @davidcenna both excellent entries that both had some excellent analysis and some great use of navigation and design.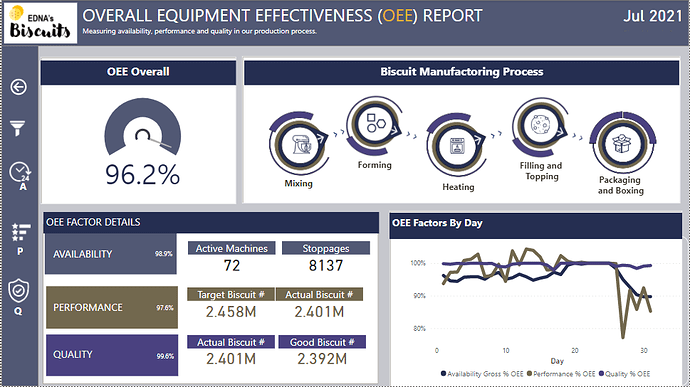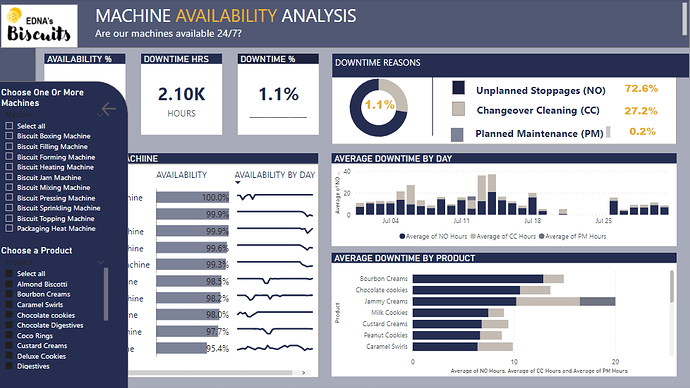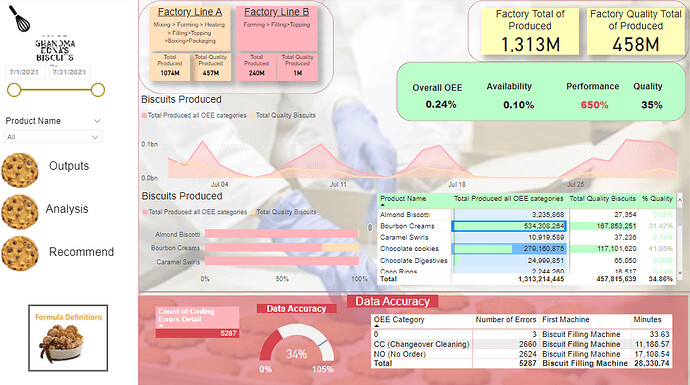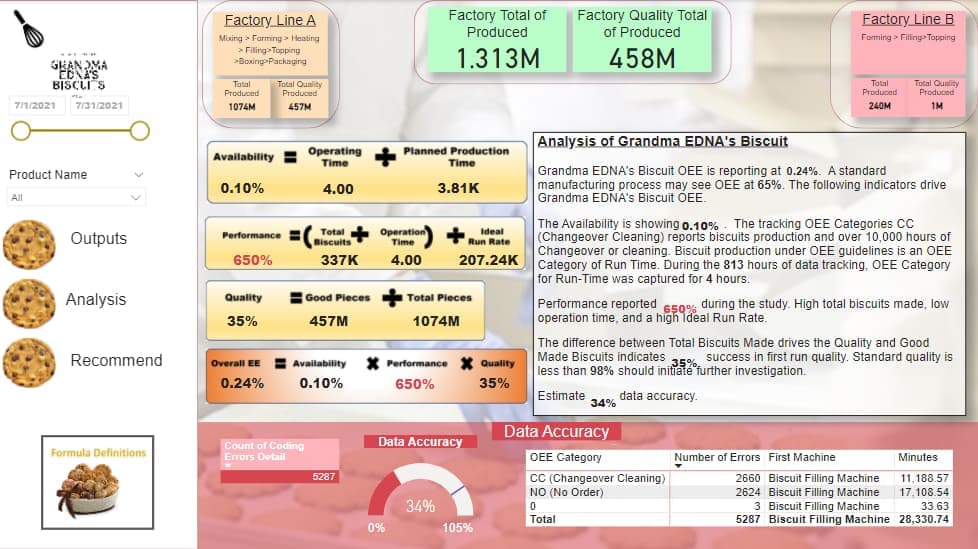 I also want to take a moment to appreciate the efforts of one @Rachwen_Mesbehi who after missing a few challenges delighted us with another masterpiece. Rachwen was excluded from the competition to stop any conflicts of interest given that he is a colleague of mine who has worked with me on OEE in the past year. However there is much to be taken from this report a truly excellent report that from experience is exactly what many enterprises would be looking to implement. Thank you @Rachwen_Mesbehi for sharing.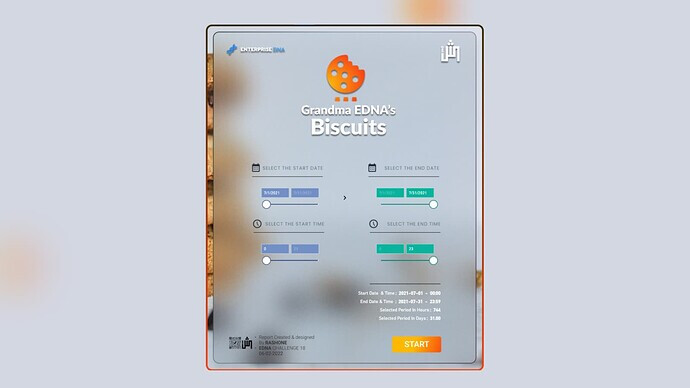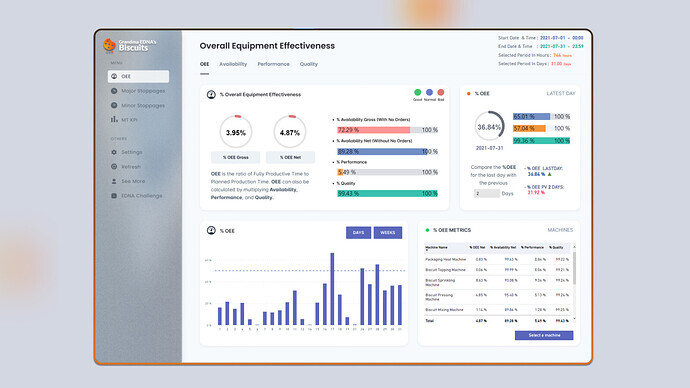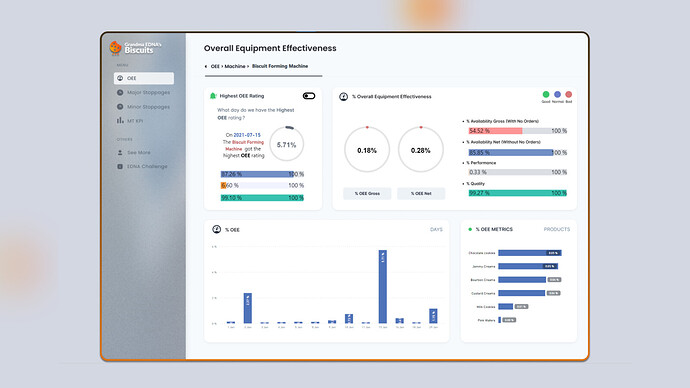 There was also a really cool exploration with a particular visual to display runtime and OEE from @paidcritic that is defo worth checking out. Thanks for sharing.
A massive well done to all participants. Truly appreciate the time you spend on creating these entries and sharing them with the community.
The challenge is all about you and enhancing your capabilities. if you have any ideas, concerns, issues or anything else you want to discuss then don't hesitate to get in touch.
If there is an idea or scenario that you would like to see posted then don't hesitate to get in touch.
Feel free to email powerbichallenge@enterprisedna.co for any queries or reach out to me personally on haroon.ali@enterprisedna.co
Ok that's enough from me.
Keep your eyes peeled for challenge 19 which will be released soon.
Take care and speak soon.
Haroon
Enterprise DNA