Alarm Model.pbix (1.5 MB)
Au 5day analysis.xlsx (513.4 KB)
Hn 5 day analysis.xlsx (101.0 KB)
Ns 5 day analysis.xlsx (77.0 KB)
Wn 5 day analysis.xlsx (1.0 MB)
Hi experts, I have been trying to calculate the length of time a device is off in the attached model. I have tried summarise but (for me) the problem is too complex.
A device can go off and on multiple times during a day and I need to capture the time between each off and on instance The first image highlights the problem. Note the first instance is always off followed by on. If a day starts with on there will be corresponding off the day before. Likewise an off at the end of the day will have a corresponding on the following day. (This is only relevant to the condensed data set provided)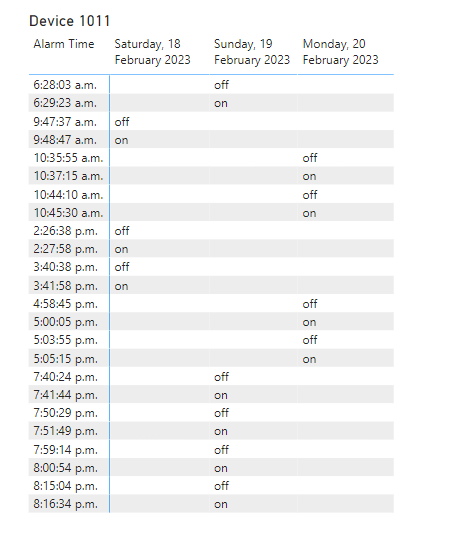 I am trying to isolate instances where the device is turning itself off and on. In the picture above you can see this clearly. The second image shows a device where a person is switching it off and on.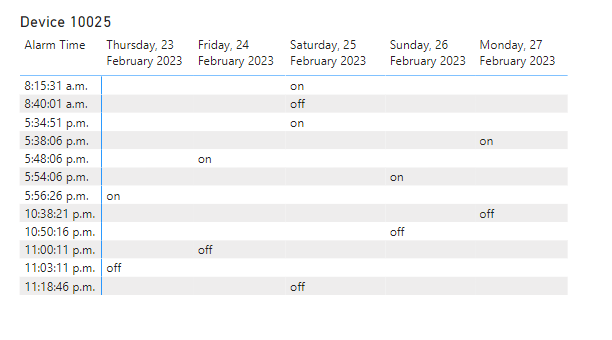 Requirements
calculate total time for each instance the device is off, seconds, minutes, hours, days.
summarise total time device is off
count the number of instances the device is off, filtered by length of time. ie 100 instances between 1-3 minutes.
be able to graph the above by day and location (location data not provided)
Really appreciate any help you can provide.
regards
Steven