Hi All - I am attempting to show the Cumulative Sales for a Partner ONLY within the Calendar Year that the Partner registered . I have the following information in my model.
Partner Registration Date (New MRR Table)
Date (Calendar Table)
Cumulative Sales Measure (New MRR Table)
I have 3 years of daily sales data, 2018, 2019, and 2020.
My end goal is to show a Line Chart visual in which the Axis is the Month name, the Legend is the Partner Creation Year (2018, 2019, and 2020), and the Values are the Cumulative Sales of the partners.
I already have a Cumulative Sales measure which works properly. However, i don't want the 2018 column to have any data in rows past Dec 2018. Here is an example of my table.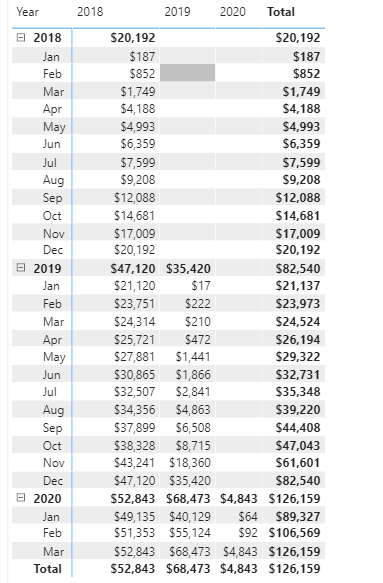 This is my measure for "First Year Sales," which is not working as i had hoped.


I tried to use Sam's method here. https://www.youtube.com/watch?v=JnhXyQ8eyuo
Any help is greatly appreciated. Sorry for a repeated topic!