Hi there,
There are about 164 "DMAIC Projects" where I need to answer the question visually "How many projects are in each process and how many days have they been there?". I've looked quite a bit at challenge 6 (insurance complaints). Unfortunately, my data is a whole lot messier. So, I've simplified as per the image below.
What I need to do:
Is calculate the STATUS of each process for a project, that is:
A. Status=DONE, if a process has an end date
B. Status= IN PROGRESS, if a process does not have and end date AND it's prior process does
C. Status= "", if a process doe not have an end date AND it's prior process does not have an end date either
Question 1:
Is this at all possible in Power Query (my first preference)?
Question 2:
I'm assuming the answer to question 1 above is… umm no. So, then could someone please help me with the Dax for (B) ? (I will then figure out the DAX for C and A is easy enough).
Question 3:
Assuming I have to go the Dax route, is there any limitations to now having a DAX measure as apposed to a nice calculated column?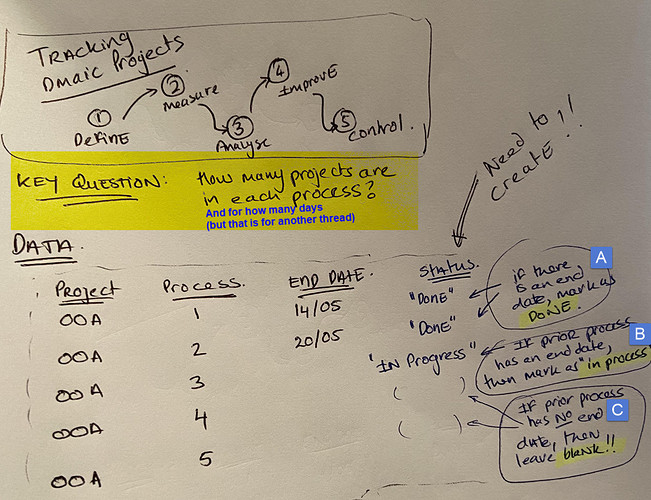 Thanks in advance,
Michelledmaic_projects.xlsx (9.9 KB)