Enterprise DNA Members,
This month, we are doubling down on our promise to provide you a brand-new platform course every month by releasing TWO courses (over 7.5 hours of material!) taught by Enterprise DNA Expert @MudassirAli For those of you not familiar with Mudassir, he is a Management Accountant by training but also one of the most creative and accomplished report designers in the world (a three-time Enterprise DNA Data Challenge winner), whose iconic designs include the following: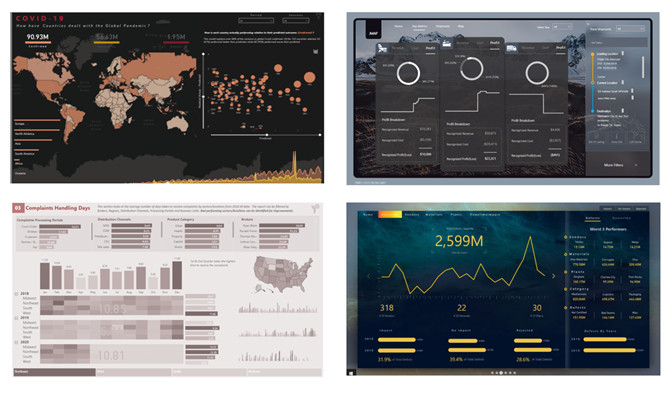 When I hear the word "visualization" in conjunction with report development, I think of two distinct things: 1) the choice and configuration of the graphics used to communicate the results of your analyses in interesting and insightful ways, but also 2) the overarching look and feel of a report, including the colors, fonts, images and navigational aspects that together define the user experience (UX).
In Part One of his course, Mudassir actually starts with this second aspect, discussing where he finds inspiration for his creative designs, and his philosophy and specific approaches to designing a beautiful and intuitive user experience, including an in-depth discussion of his best practices. He then walks through creative ways in which you can make the most of the native visuals within Power BI, and closes Part One with an exploration of some of his favorite custom visuals.
Part Two of the course is a deep dive into how to create your own custom visuals using Microsoft's Charticulator tool. While a very powerful tool in your visualization toolbox, Charticulator is nonintuitive and not something you can easily figure out just by playing with it. However, Mudassir has become a virtuoso in the use of Charticulator, and clearly guides you through step-by-step in how to use it to create a wide variety of visuals not available natively or via custom visuals. There is a mistaken impression that Charticulator is just for creating esoteric visuals, but it actually can be used very effectively to create some standard visual types that just make better use of space than the native visuals.
With the release earlier this month of the Charticulator custom visual, this is a great time to learn how to use this tool since being able to create your own custom visuals within Power BI is now much faster than doing so using the prior web version. Just yesterday, Enterprise DNA Expert @JarrettM remarked to me about Mudassir, *"Love his content on his approach to visualizations and Charticulator. I'm his #1 fan!"
I think there is a tendency when you see an incredibly creative report to think that "I can't do that, I'm not that artistically talented", but Mudassir clearly makes the point that these are specific skills that CAN be learned. While sound data modeling and insightful analyses are critically important, the first impression most people will have of your report pertains to your visualizations. If you want to level up the impact that your reports have with your management, your clients, the public, or other stakeholders, we think you'll find this course extremely valuable as well as entertaining.
Huge thanks to Mudassir for the time and effort he put into these courses, and for sharing his amazing gifts with us all.